The Art Of Shen Ku contains:

*ABOUT 336 COMPULSIVE PAGES
*ABOUT 1,812 POWERFUL DRAWINGS

*ABOUT 7,704 RESEARCHED SUBJECTS

*ABOUT 15,160 INDEX ENTRIES
________________________

Guardian Angel Spirit on Guard (A Thai Spiritual Lion named Sing Toe) adorned with Buddhist Icons .... In Northern Thailand (where Big Gym City is located) …. There is belief in "Animism" which is that things (such as trees, rivers, stones & even plants [such asAloe Vera]) have living souls .... It is a belief in a spiritual presense, worthy of respect (& sometimes fear) .... That is why you will often see the trunks of old trees encircled with orange or red/brown cloth sashes .... Even if you do not believe in such traditions, definately better not to laugh (or scoff) at such 2,500+ year old beliefs ... Just remember that every "sensible" person once knew the world was flat .... Thank You Zeek.

These are the 4 iconic representitive characters who have kindly demonstrated the 4 Logics of The First Intergalactic Artform of The Entire Universe in the categories of The Traveller, The Physician, The Sailor & The Martial Artist .... Thank You All Very Much from Zeek
___________________________________
All artwork , research & relevant text on this site is © (copyright) Zeek 1999-2012 all rights reserved (except a few images from Googles[please see note in Footer]) .... BUT there are 4 sections which are available to webmasters to copy, paste & display (subject to 3 simple conditions below/or on that page) .... they are:-
1.) ****INTERGALACTIC ART & THE FUTURE OF THE PLANET EARTH 10/10/10**** .... A vital report on the exponentially precarious status of this planet & ALL life that currently inhabit it ... Absolutely & devastatingly relevant to ALL races, ages, religions, cultures, countries & other life (of whatever form) currently on this planet (available subject to the 3 conditions below or on that page)....
click here
2.) ****EMERGENCY CPR PAGES**** (Illustrated Emergency Mouth to Mouth Resuscitation & Heart Massage) .... Reputed to be THE best such "Simple, Clear & Study Friendly (even kids will learn it)" emergency pages on the internet of this planet of which use is offered by Zeek (as a public emergency service) subject to the 3 simple conditions below or on that page) ....

3.) ****THE PRECIOUS RING**** .... A Mystical Self Improvement Classic suitable for ALL ages & ALL situations, researched, written & illustrated (from life) mainly in the Golden Triangle of Far North Thailand (about 1982 by Zeek) & offered to anyone who might benefit from it …. & work out the code YOURSELF (subject to the 3 conditions below)....
click here
4.) ****FANCYWORK FOR SAILORS**** An Artistic & Valuable "How to" Double Page which is useful & enjoyable to "Arm Chair" sailors (of any age) & potentially vital for "Bosun's Chair" sailors .... This work is specifically offered by Zeek in respectful recognition of our intrepid sailors (of ALL races & nationalities) from across our mutual history, who explored the "inner space" of this planet, over hundreds (& thousands) of years (& frequently died doing it) …. (available subject to the 3 conditions below or on that page)....
click here
___________________
The 4 works above are offered by Zeek (in his words) on behalf of "ALL life in ANY galaxy suffering from illness, persecution, circumstance or despair .... THIS WORK IS FOR YOU .... DON'T GIVE UP" .... They are available to any webmaster who can (subject to the 3 simple conditions below) copy & paste (& display) one or more on your site for your customers use, providing .... 1.) You read & agree your use & site reasonably comply with the "ETHICS" note in the footer of this (& every) page & .... 2.) You place a backlink (example on relevant page) on your site WITH the legally available page(s) that you copy/paste & display, this being your contribution towards Zeek's modest efforts (which in turn are for the benefit of our species & this planet) & .... 3.) Please mark it "Legal Page Copy" (example on relevant page) in the title text .... Thank You VERY much Signed Zeek
________________________
ONLY THE 4 SECTIONS ABOVE (no others) are available to copy/paste & display(subject to the 3 conditions) … Any display without the backlink, reasonable ETHICS compliance & LPC text will constitute Copyright Piracy [Site Lawyer]) ... Thank You.
_____________________________
_____________________________
SYMPTOM(S) & INDICATION(S) OF NAIL AILMENTS (This is a sample from Page 200 in The Pysician's Section of The Art oif Shen Ku) .... This is a part view of the page).
DIAGNOSE & TREAT FINGERNAIL PROBLEMS
Nails with white flecks on them ...

Nails with longitudinal ridges on them ...

All about half moons on your nails ....

Nails with lateral ridges on them ...

Nails that are split & peeling ...

Nails that are concave or "spoon" nails ...

Nails with thick cuticles ...

Nails that are convex or rounded ...
All of these specific subjects (& more) on this vital & universally relevant subject (from page 200 [part view]) in The Physician Section of The Art of Shen Ku ....
(All art, research & text © copyright] Zeek 1999 all rights reserved)
__________________________
Sample Page from "The Art of Shen Ku" .... (Credits page from Original [now rare]Edition)
THE ULTIMATE TRAVELLERS GUIDE (original credits)
*
HUMOUR IS A PRINCE
in this Artform because happiness is more valuable than gold.
*
HEALTH IS A PRINCESS
in this Artform because responsibility is an honour most missed if it goes.
*
PHILOSOPHY IS A KING
in this Artform because the world is not flat nor are we alone in it's time.
*
IMAGINATION IS A QUEEN
in this Artform because without it our dreams cannot ever come true.
-----------------------------------------------------------------
A TRAVELLERS CONCISE GUIDE TO YOGA POSTURES (extract illustration from page 214) showing: Three Valuable Sitting Postures .... A=Spinal Twist (comprehensive stretch & flexibility posture with many other benefits [including abdominal organs]).... B=Cow Streetch (stretch & flexibility [for arms & shoulders] & alternate crossed feet for: Fits, Cramps, Abdominal Pains, Middle Back Pain, Circulation, Vertigo & Madness) .... C=Lotus (mainly a meditation posture [needs a lot of practice to assume it without discomfort, but go to Asia & see it done so easily ... if your knee joints hurt do it every 2nd day] .... Also very beneficial for general health [reduces leg blood staganation, good for posture of back & neck, holds stomach in a relaxed & beneficial position).
__________________________
Sample Page from "The Art of Shen Ku" ....

(Foreword & Dedication)
GREETINGS FELLOW TRAVELLER be your journey to the supermarket on a bicycle or another galaxy by starship. Each must start with a single step & embark on that uncertain road that is life. A toast to you who did not hide in some dark room waiting for death, but dared to set forth & face the unknown. Without such as you Magellan would not have reached Cape Horn nor Columbus the New World.
_______________________

8 KICK ZONES & 16 DEVASTATING KICKS (this is a part view of page 237) .... Showing: 1.) A Front Snap Kick 2.) A Back Snap Kick & 3.) An Inside Crescent Kick.
HOW TO EXECUTE KUNG FU KICKS demonstrated by Woo Chin ... Don't forget that knowledge of martial art techniques carry moral & legal responsibilities 1.) Never strike the first blow (unless threatened with a weopon) .... 2.) Don't use excessive force .... 3.) Stop when out of danger .... 4.) Temper & martial arts are incompatible. (illustration extract from page 237 [part view of page])
______________________________
Now published in New York. NY by Penguin Putnam, & represented in California by Margaret McBride Literary Agency & sold internationally by various prestigeous companies(Thank You Guys.... Very much appreciated ....Signed Zeek)....All artwork & text still copyright Zeek 1999
------------------------------------


"The Art of Shen Ku"(&/or Zeek) has been privileged to have been featured in various internationally admired magazines & newspapers such as (but not limited to):-
*A near full page unsolicited feature article in America's most prestigious broadsheet THE WASHINGTON POST on the USA's most prestigious National Day (Independence Day [2002]). (see below)
*A full feature technical article in Australia's "POWERBOAT & YACHTING (see below)
*A full unsolicited feature article in the internationally renowned PHUKET GAZETTE (The premier newspaper in Thailand's Premier Resort). (see below)
*Multi series in the "MANCHESTER EVENING NEWS".
*A full unsolicited feature article in the UK's very prestigious TRAVEL & LEISURE MAGAZINE.
*A multi full page, multi edition series from "The Art of Shen Ku" in possibly the worlds most famous martial arts magazine COMBAT .
*& many more scattered across the world in far flung places such as La Reunion, The Virgin Islands, Tahiti, South Africa, Mauritius & many more (most stuck in storage at present in Thailand [or lost for ever])
Zeek would like to thank the publishers & staff (& readers) of these many fine & internationally respected publications for their kind interest in his modest work ….
Thank You Guys, Very Much.
___________________
HOW TO TIE A DRESS TIE KNOT (illustration extract from page 185 in The Sailor's Section of The Art of Shern Ku)
"CAN YOU TIE A DRESS TIE KNOT YET SON?" ... Ah Mom, I'm 18 already & I'm gonna wear this tie from Bora Bora to Grandma's house, so there! ... Oh Darling please wear your nice "Old School Tie" ... "Ah Mom please, I'll look like a cissy ... must I wear that kid's tie again?" ((from page 185)
_______________________________
A VOYAGER'S SIMPLE & HEALTHY WHOLE FOOD RECIPES (being a traveller's choice of easy to prepare & nutritious dishes) .... "Wholefood" broadly refers to unprocessed naturally grown foods such as are often eaten in rural/farming communities (in any country) .... In this illustrated extract from page 171 are:- PUMPKIN SOUP (one of Zeek's favourites with Cayenne Pepper), BAKED GRAPEFRUIT & ROAST CASHEWS (great on your health conscious guest's sidetable with his/her glass of pure tomato juice with a dash of cider vinegar in it (marvellous alkaline health drink [try it in the middle of the night if you can't sleep with a small portion of fish or steamed chicken] ) .... Works for me every time!)
__________________________________
SOME SAMPLE PUBLICITY
(Relating to The Art of Shen Ku by Zeek)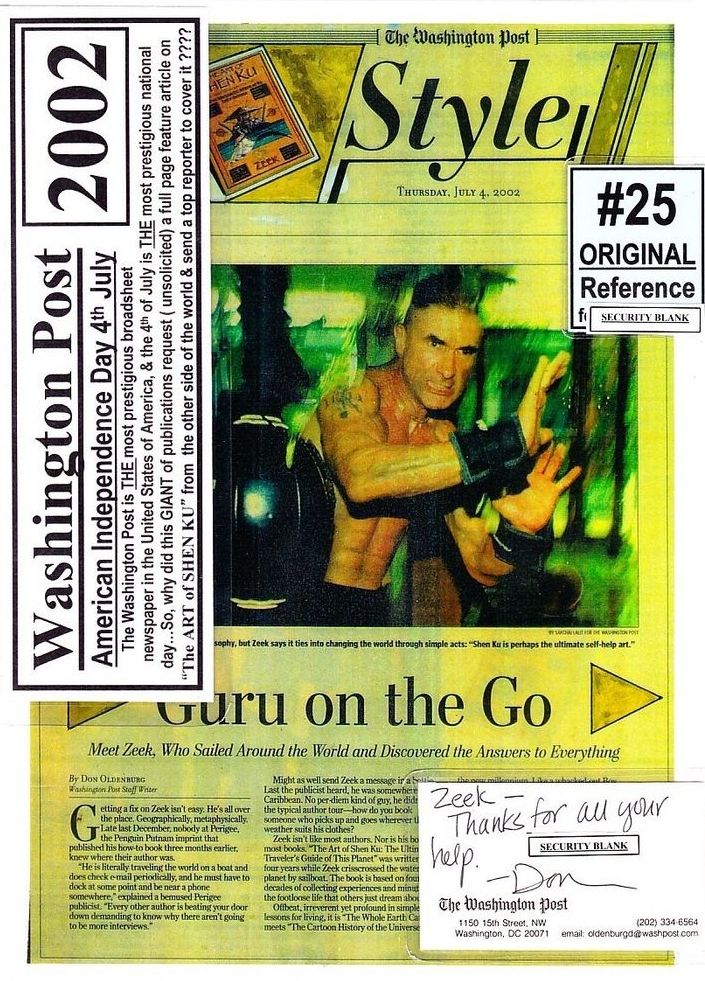 THE WASHINGTON POST .... Why did THE most prestigious newspaper in the USA .... on THE most reveered national day (4th of July) in the USA .... in THE world's most powerful economic & military country, publish (unsolicited) & send a photographer on a specific mission to record the rebirth (from the year 2000) of "The Art of Shen Ku" by the only modesty talented artist/researcher & intergalactic dropout, Zeek? .... The answer is simple, it is because a person or persons in that publication had the foresight to not only recognize our mutual values of freedom & "outrageous" inovation of logic BUT to have the courage to record it *the image above is a part view of the full feature).
_______________________________________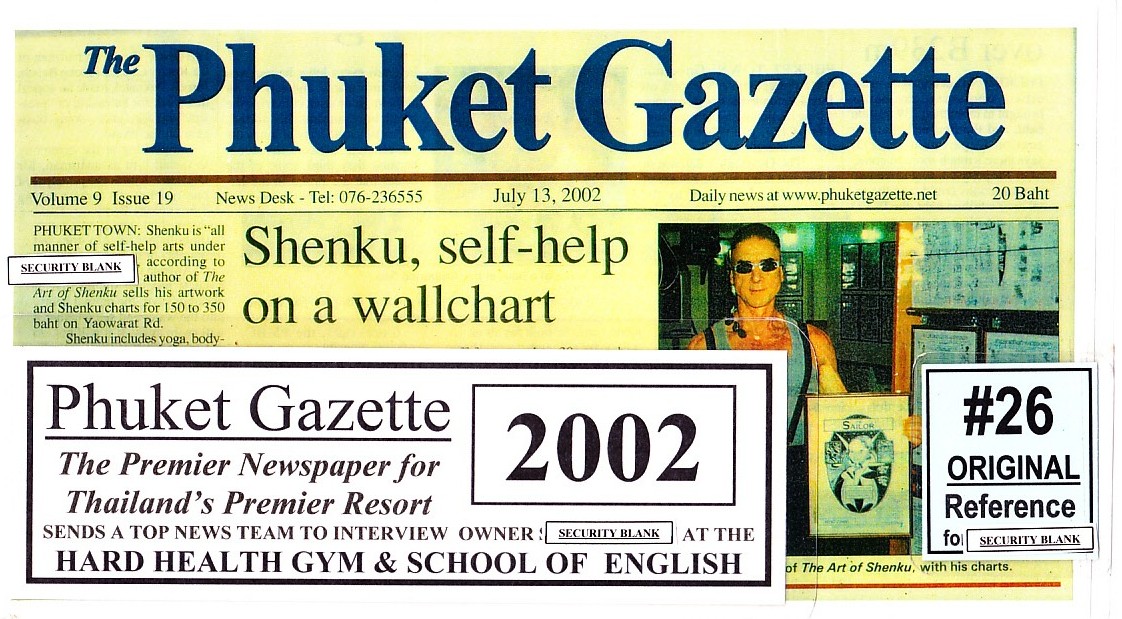 THE PHUKET GAZETTE .... The premier newspaper in Thailand's premier resort (where land prices now will make your eyes water [hundreds of millions of Thai Baht are not now unusual]) .... also requested (unsolicited) & kindly provided, this feature (part view) article which actually gave Zeek full membership in his humble gym for many months .... Thank You Very much The Famous PHUKET GAZETTE.
_________________________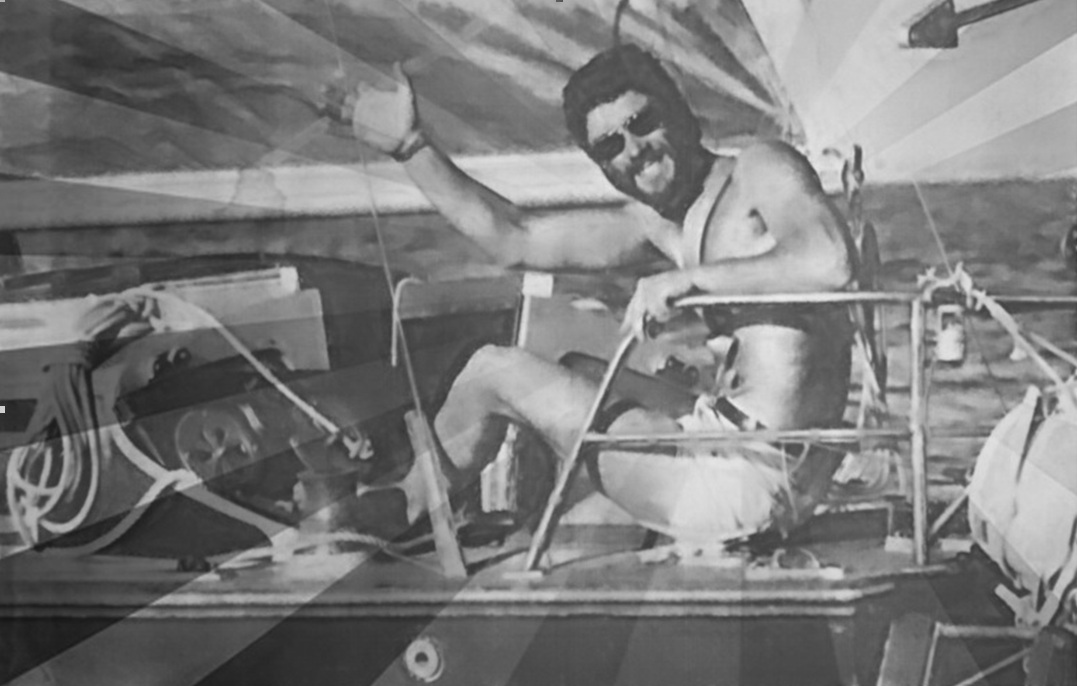 1970 Zeek & "Ghost Rider 1" sets sail to circumnavigate the world with zero experience & almost no equipment ... God help you ... (you'll need it)
The black & white photo above (about 1970) .... was published variously internationally & shows the 24 foot sailing cutter "Ghost Rider 1" (no main engine, toilet, distress beacon, radio etc) .... She (all boats are she because they are brave & easily upset!) was built over four years by Zeek on weekends & nights) whilst holding down a full time day job for the Animal Quarantine Dept. of the Australian government (not surprising you didn't have a girlfriend then Zeek! ... No respectable girl would want you!)
"GR1" is shown heading towards the exit from Sydney Harbor ... into the unpredictable (& quite dangerous) Tasman Sea ... (ever see the Sydney Hobart race where the worlds best super yachts take a serious beating?) ... Anyway this unworthy mariner was bound north ... suposedly heading for the vast (& equally unforgiving) Great Barrier Reef of Australia...
We have here a basically "a lamb to the slaughter" scenario, with the now skinny Zeek (too much work & no one to feed him ... & we all know what men are like living alone, basically hopeless ) ... setting off into serious harms way ... with:
a.) Less than half his vision remaining (cause:gross state neglect & medical errors at age15) & ...
b.) Unanimous (3) "top expert"medical predictions of:"You will be totally blind before 2 years & ...
c.) (same "expert" eye specialists) ... "or MUCH sooner, if you do not adopt a sedentary lifestyle (that means sit in front of the TV with a cup of tea "Do NOT do ANYTHING dangerous").
d.) Further complicated by: At that time ZERO navigation or offshore sailing experience & ...
e.) Setting off on an outrageously hazardous "adventure" alone ...
A catastrophe absolutely waiting to happen ...
("See you in the next life Zeek ... maybe!")
----------------------------------
BUT, (God [any god] only knows how), somehow arrived in New York City (other side of this world)...
See Below:
----------------------------------------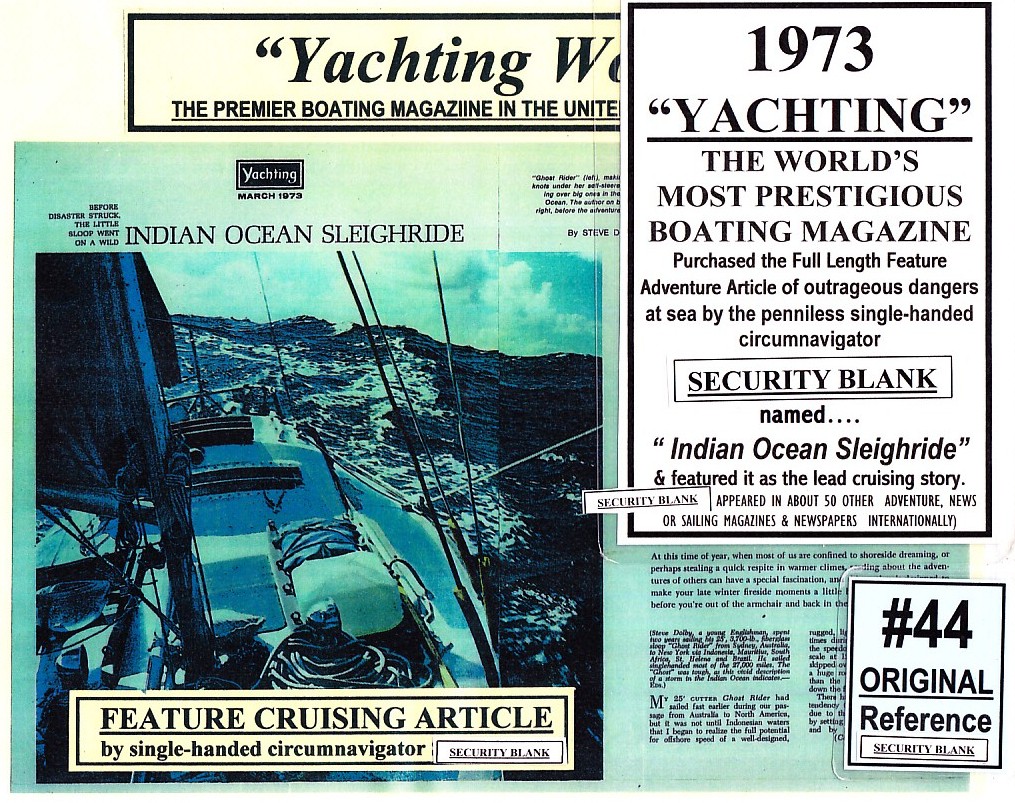 YACHTING MAGAZINE: OUTRAGEOUSLY HAZARDOUS TRANSIT OF THE PERILOUS INDIAN OCEAN AT BREAKNECK SPEED ... Just how brainless is it possible to be??? This account of a single handed enginless crossing of the South Indian Ocean in the homebuilt 24 foot sailing cutter "Ghost Rider 1" IN cyclone season (IQ ZERO), navigating with a battered old sextant (no sat nav or GPS in those days), vastly over canvassed & with considerably less than one half of his vision remaining, must qualify for a diploma of krass stupidity (or was it something else) ... & almost inevitably it ended with FULL FRONTAL CONTACT at 125 knots (that's about 230+kph) with the tropical revolving fury which broke a 10,000 ton Japanese tanker in half & sank it close by. ... The Ghost Rider was dismasted, & the broken mast & rigging fell & tangled under the hull of the tiny vessel jamming between rudder & keel, continuosly pounding with horrific blows. All this in mountainous breaking seas & hurricane force winds some 500 miles of shark infested seas from the nearest land (the treacherous reefs of Mauritius) ... & of course there was no radio, coast guard, air sea rescue ... NO potential help, of any kind whatsoever.
Zeek was indeed a penniless refugee (almost from another world) when he limped into the mighty port of New York (Sheepshead Bay Yacht Club [thank you Guys]) much later ... & having no money to buy food, took a deep breath & in threadbare jeans & tattered muscle vest, took the story above to the very prestigious offices of the worlds most famous sailing magazine "YACHTING" .... & somehow, bluffed his way past several beautiful (but provocatively strict [to his starved eyes]) secretaries, crossed about 100 meters of thick red carpet to finally arrive at the editor's door & had the blatant cheek to ask him if "Yachting" wanted to buy it!!! ... & worse then had the affront to ask for the totally outrageous (in those days) price of $100! "WHAT!" .... There was a loooooong pause & then Zeek was asked "How does $400 sound?" .... WOW!
THE ABOVE IS PART OF A TRUE STORY FROM HISTORY

_______________________________________